Sharing our 2022 Leadership Gathering Report
How do we improve service delivery to those facing complex challenges? Our Leadership Gathering tackled this key question.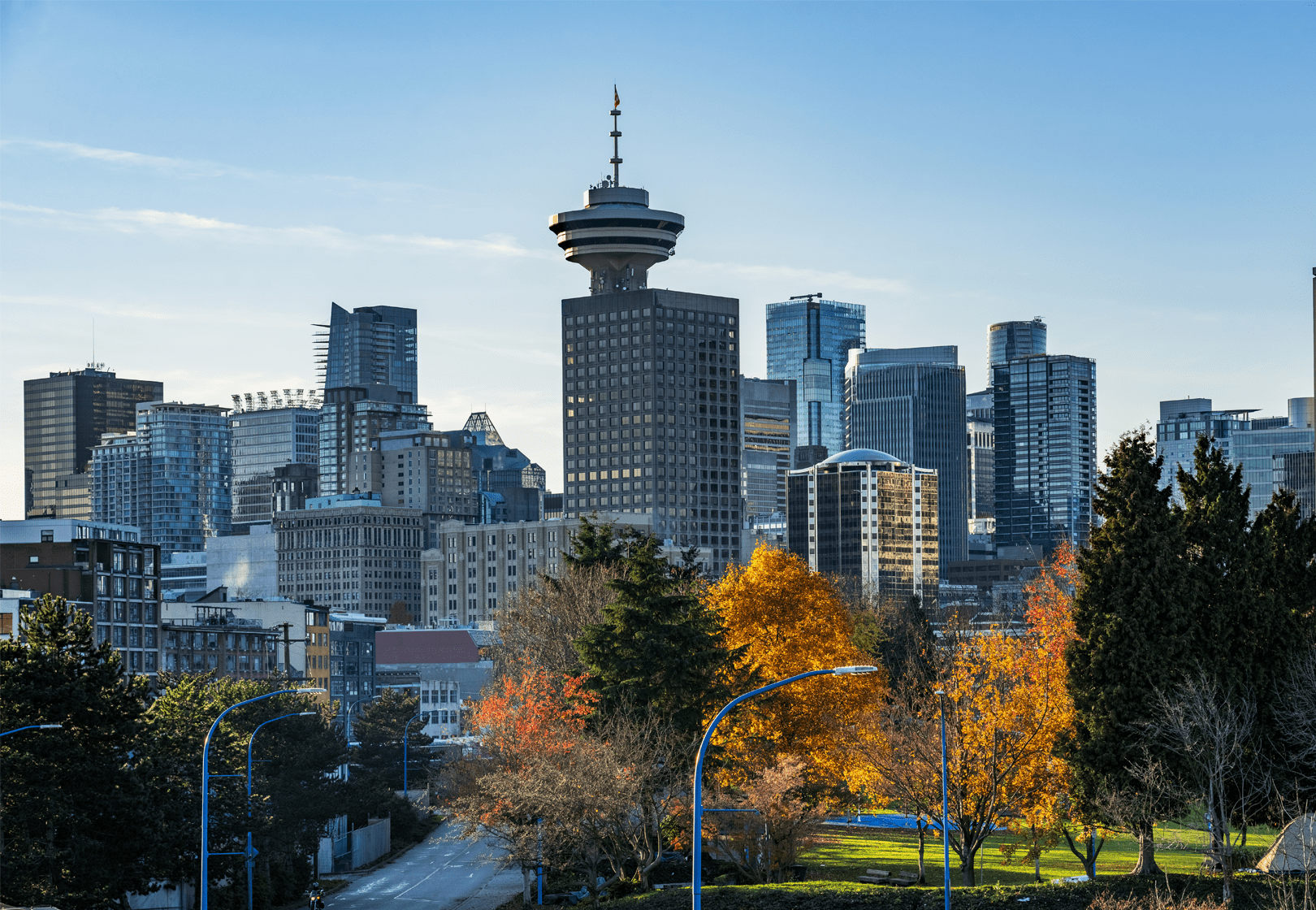 In October 2022, Connective hosted the inaugural Leadership Gathering on complex service delivery. 

The Leadership Gathering was designed as a first-of-its-kind dialogue between experts from across the justice, health, and non-profit social services sector, and saw 75+ participants gather over two days to discuss how to improve service delivery to those facing complex challenges.  
Setting the Context
Though the Leadership Gathering took place over two days, the journey that led us there was closer to two years. Originally scheduled for May 2020 but delayed by the COVID-19 pandemic, the inability to hold an in-person event instead gave space for a series of eight virtual panel presentations. These digital discussions kept momentum high throughout the pandemic, provided an opportunity to explore related topics, and helped set the stage and revised agenda for our rescheduled in-person event.  
As a long-standing nonprofit service provider – one that has seen firsthand the challenges of complex care delivery – our decision to commit to this multi-year journey was an easy one to make. The why was clear. Looking at the landscape of social service, there is no shortage of innovative, important, and inspiring work being done. But there is also plenty of untapped opportunity; opportunity to evolve service delivery models, to better coordinate efforts across sectors, and ultimately, to improve the experience of those facing complex challenges.  
In the eight virtual sessions that led to the Leadership Gathering, the importance of realizing these opportunities only became clearer. As we explored the many and varied facets of complex care, we heard from experts in their field and experts with lived experience; from those based right here in BC, and from those around the world, including Australia, the UK, and beyond. During these sessions there was one common refrain, reiterated time and again: no sector exists in isolation.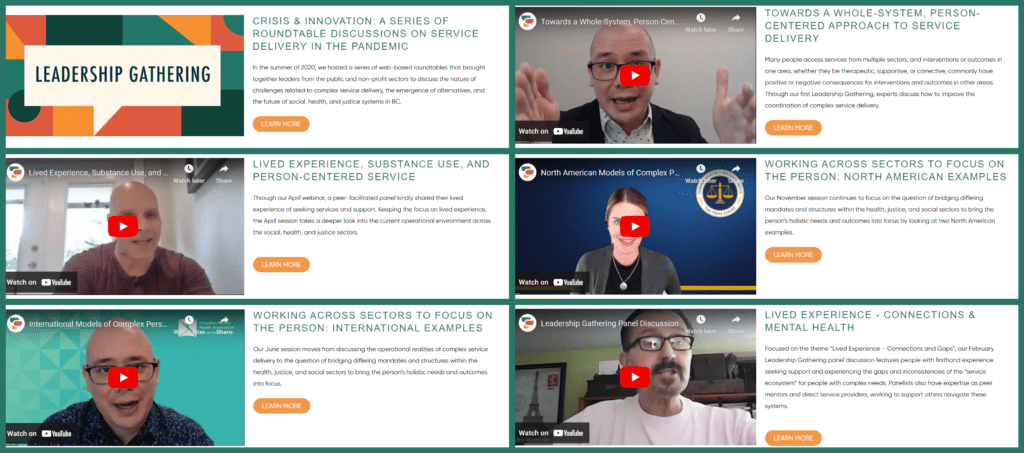 Just some of our 8 virtual panel presentations leading to the in-person Leadership Gathering last October 
As participants looked at case studies and recalled their own experiences, we saw how narrow or siloed approaches to programming led to gaps and inconsistencies in service; how, collectively, we faltered as service providers when we zeroed in on one aspect of an individual's needs without considering the entirety of their experience. 
On the other hand, we saw equally clear examples of the profound impact that coordinated interventions could have. When work is complimentary, its effects are magnified; as one service builds on another, those being supported see exponential benefits. Often, these positive outcomes spill over into a range of indirect social and economic benefits, as well.  
Between the rising cost of living, the ongoing toxic drug crisis, climate change, and a number other, converging social challenges, there is urgent need for more services to reach more individuals in more places and in more ways than ever before. To make this happen, service providers need to work together.  
During the pandemic, organizations, governments, and individuals saw that this was possible – that when required by crisis, we could shift our approaches and respond with urgency. Now, we have a unique opportunity to sustain this momentum and tackle longer term structural changes. 
All this context helped set the stage for our Leadership Gathering, which kicked off on Thursday October 27, at the 312 Main Building in Vancouver.  
Convening the Leadership Gathering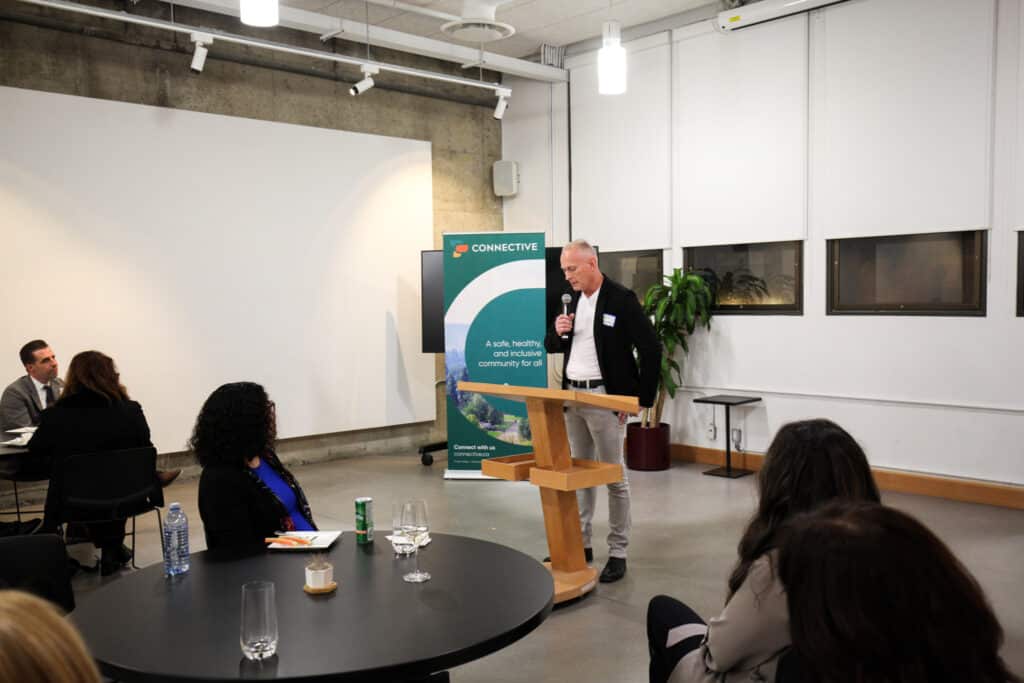 Mark Miller, Connective's CEO, opens the Thursday night welcome reception for Gathering participants
The once longtime home of the Vancouver Police Department, the space at 312 Main has since been transformed into a community centered hub. Purpose built for collaboration and innovation, and to inspire the creation of enduring social change, we couldn't have asked for a more fitting venue in which to begin our Gathering. 

Leadership Gathering participants by sector
Over the next day, together with representatives from other non-profit service providers, social sector ministries, government agencies, health authorities, Indigenous and community organizations, police services, and those with lived experience, we would ask attendees to break down silos, reach across sector lines, and inspire discussion and action around our guiding questions.
"How can we coordinate our efforts to be more effective? How can we better ensure that those facing complex challenges – many of whom sit between multiple mandates or community service provisions – are receiving the full range of services they require, in the format that best suits their needs and preferences? "
After two long years of lockdown and online collaboration, there was palpable energy in the room as we dug into these important issues in person.  
Our Leadership Gathering Agenda
Witnessing the ideas, perspectives, and connections exchanged at the Gathering was both impactful and inspiring. We also knew, however, that the discussion around complex service delivery was much larger than just those we were lucky enough to convene in the room that day.  
Ultimately, the promise of the Gathering, and our ability to make good on its aims, would require a broadening of the conversation.  
That's why we're so excited to share our Leadership Gathering Report. An accessible summary of the event's proceedings and discussions, complete with context for those who weren't in attendance for the virtual panel presentations that helped to set the stage, is available below.  
We encourage you to explore these conversations, share the report with those in your network who may benefit, and reach out to us at info@connective.ca with any questions or comments that you have. 
Our planning committee is now hard at work on this year's Gathering, and we look forward to sharing more on this event in the months ahead!