FIELD REPORT: Our Whitehorse Photo Project
Join Connective's Senior Communications Specialist for a look at Facing Forward: Portraits of Resilience in Whitehorse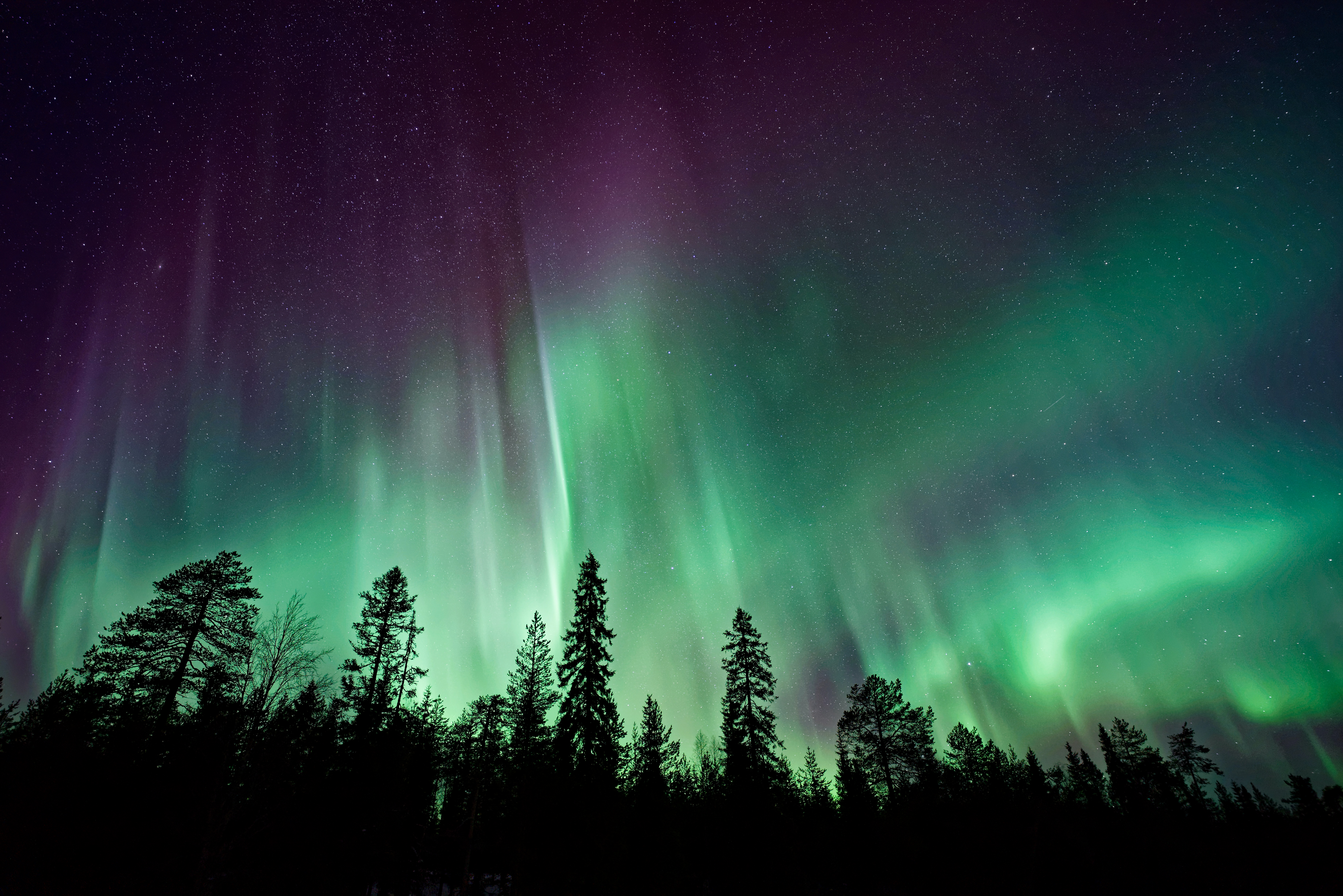 Connective's work in Whitehorse has evolved significantly since our first program, SHARP, opened back in 2020. In the years since, we've expanded our services, built a large and dynamic staff team, and nurtured wide-ranging community partnerships. In recognition of this journey and how far we've come, we wanted to highlight some of the incredible people who've made it possible.
Facing Forward shines a light on our service users and staff. It reminds us that no matter who we are, and no matter where we're at in our personal journey – we are all human, and we are all Facing Forward, one step at a time.
Please join Tyler, Connective's Senior Communications Specialist, for a first-person account of his experience coordinating this project, in partnership with GBP Creative.
It was an unusually warm winter Friday as I boarded the small Air North flight bound for Whitehorse, Yukon – my first time visiting the territory.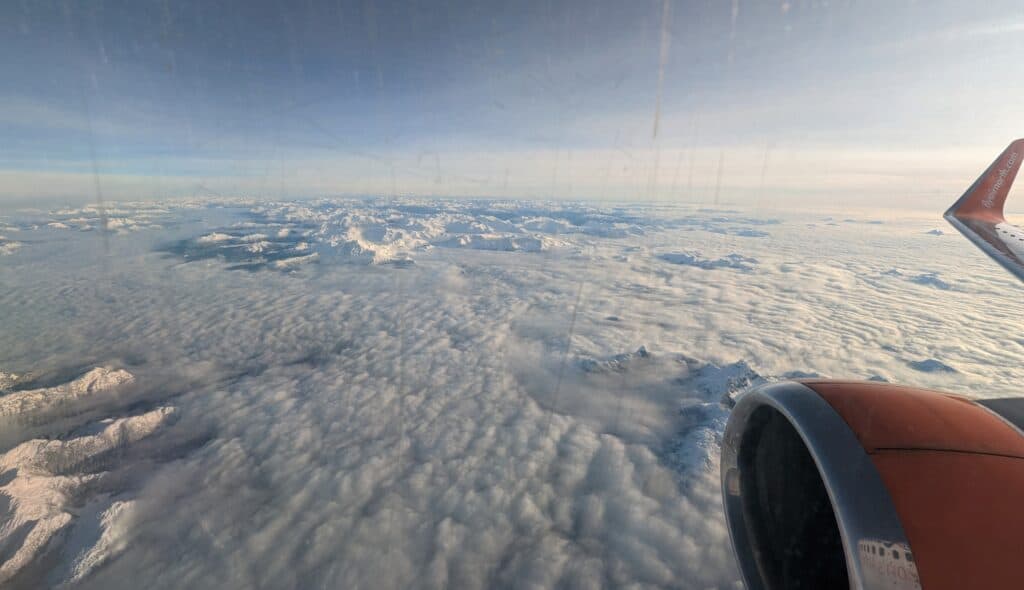 Ascending to 40,000 ft and watching the mountainous expanse morph and shift below was nothing short of mesmerizing. Several hours later, after inhaling the view and adorable in-flight lunch (1x piece of cheese, 1x clementine, 1x slice of cinnamon loaf) with equal zeal, I was on the ground in Yukon.
All that stood between me, my suitcase with one functional wheel, and downtown Whitehorse was a choice – a bus, a cab, or a highly unnecessary and arduous 45-minute trek through the snow. As a lifelong fan of doing things in the most difficult way possible, I chose the latter. The set of stairs at the :35 mark came as a surprise, but nonetheless, I persevered.
Significantly sweatier, but with my stubbornness satisfied, I arrived in town and immediately felt at home. The ruggedness of the surrounding landscape combined with the cozy feeling of the small downtown stretch was a welcome reminder of past places I've lived.
After dropping off my suitcase I walked around and got to know the lay of the land. It was extremely helpful to gather a picture of what, until now, I had only heard secondhand, from our team of Whitehorse staff. Learning about our programs is all well and good but seeing them in person (even just from the outside) and understanding their geography in relation to one another, and to the surrounding community, provided a whole other sense of context.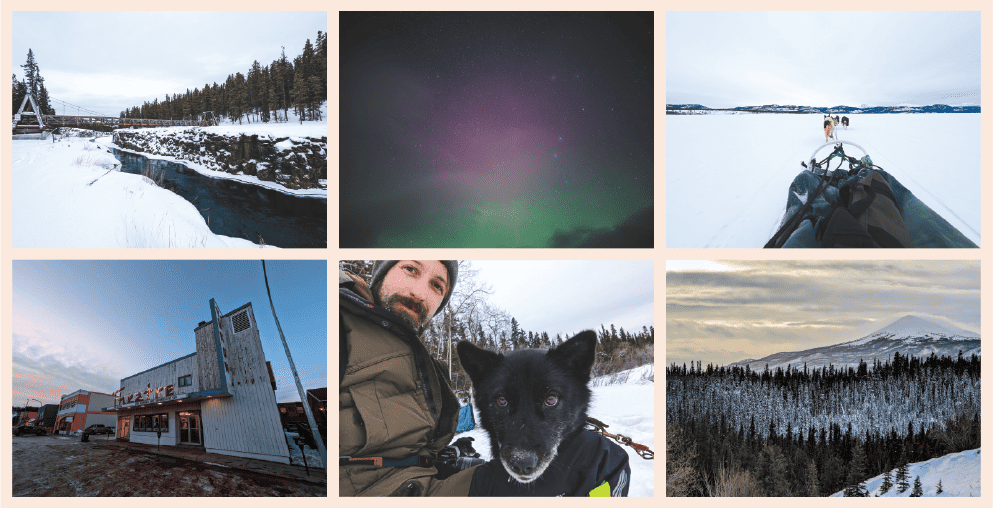 Following a magical weekend that included hiking, dog sledding (!!) and northern lights viewing, I was 75% ready to pack my bags and move here permanently, and 100% ready to get to work.
Finding our Stories
Contrary to what my heart may have desired, I did not just come to the Yukon to hang out with sled dogs. Throughout November and December of 2022, Connective had been coordinating with local Whitehorse creative company, GBP Creative, on a photo and storytelling project – something that would give the service users and staff of our (then – four, now – five) Whitehorse programs the space to tell their own stories, in their own way. After two+ months of planning and coordination, it was time to bring it all together.
For more reasons than one, we were thrilled to work with GBP Creative:
Owned and operated by Brianne and Gary Bremner, GBP Creative strives to align itself with organizations and businesses that build local communities and help them thrive.
"Building community is foundational to what we do. It has been a priority and a value we've always had while we've grown our business here in Yukon."
More specifically, Brianne and Gary felt a strong connection to Connective's core pillars. They know how important it is to hear the personal perspectives of those facing complex challenges, rather than relying on assumptions or stereotypes, and were eager to take part in a project that facilitated that.
Connective's Core Pillars
Our focus is on the individual and what they can do – not on their condition, disability, or on the challenging circumstances they may find themselves in. Support is tailored to each person's unique needs, and focused on helping them achieve their goals.
Stable, appropriate housing is a critical step in avoiding crisis, and a crucial springboard for accessing additional supports. We help people secure low-barrier housing and provides the community-based supports necessary to maintain it long-term.
Acknowledges that individuals may not be able to remain abstinent from their substance of choice. Instead, it offers a choice of how they will reduce the health and social harms of that substance use as much as possible.
Culture plays an important role in the healing and resilience of our Indigenous service users, so we work to integrate the expertise of Elders, Knowledge Keepers, Indigenous Leadership and community groups in all that we do.
"Working in the mental health, addiction, and harm reduction field is something that is important to us, both personally and professionally…We've seen just how important it is for people to be able to share their stories, and to be 'seen.' For them to have their voices heard."
Meeting Brianne and Gary in person for the first time, as we prepped for two days of photo and story capture, I was struck by their kind and disarming demeanor. Right away, they felt like folks you wanted to share with – a clear sign of why they've excelled throughout their careers as storytellers.
"Every time we do a project where people tell their stories, we're struck by just how much they are carrying around every day…The amount of trauma and grief, as well as resilience and strength."
Regardless of what people chose to share, we knew we were in for an emotionally significant couple of days. The reality of work in our sector also meant needing to remain flexible – juggling schedules and last-minute changes kept us on our toes, and made the process fly by. At the end, we captured nine incredible portraits of resilience in Whitehorse.
All in all, the process was inspiring and challenging; heavy and joyous; profound and revealing.
"It's always challenging to hear stories of grief and trauma and know there's nothing you personally can do to change any of it for someone, as it's their journey. And then I think getting firsthand stories of how systems are so deeply flawed is challenging…But we also shared some great laughs with people and learned a lot. We had one participant do a prayer with us after sharing a really difficult story, which really meant a lot."
After a great deal of interview examining, story writing and editing, photo processing, and website building, we're finally ready to share.
Facing Forward: Portraits of Resilience in Whitehorse
Our work in Whitehorse began in 2020, at the height of the COVID-19 pandemic, when in response to a sudden withdrawal of services we stepped in to open SHARP (Supervised Housing and Reintegration Program) in a matter of weeks.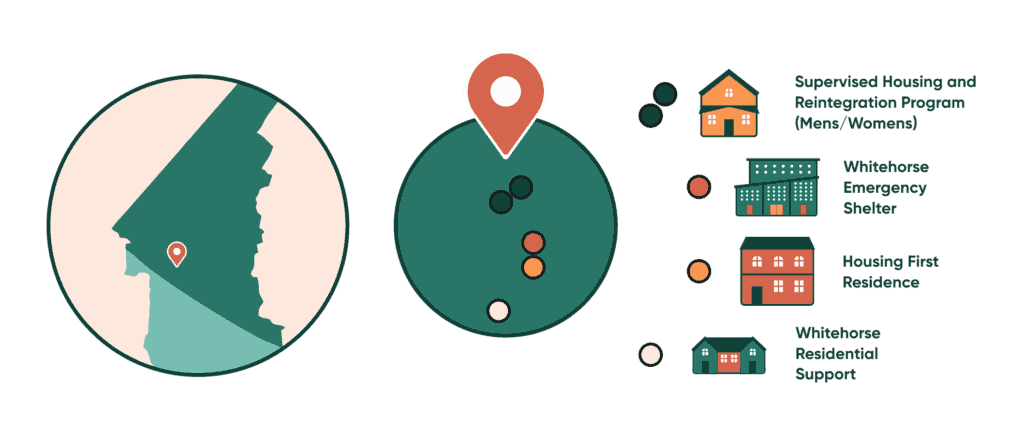 Today, we are proud to operate five programs and employ more than 100 staff in the territory, working day in and out to respond to the diverse needs of residents.
It has been a pleasure and a privilege to see our work in Whitehorse flourish over the last few years, but as one of our newer communities, we wanted to create this opportunity to highlight just some of the incredible people who comprise it.
This project is our way of shining a light on our service users and staff, and reminding everyone that no matter who we are, and no matter where we're at in our personal journey, we are all human, and we are all Facing Forward, one step at a time.
"We really think this project is important because it puts a face and a story to people the public may just have assumptions about…We hope it breaks some of the stigma, builds a better understanding of what people are facing, and highlights the strength and resolve that exists in our community."
We're excited to share a few preview images, and encourage you to view the full project at the link below: